Mail Server Update
New Terms and Conditions for our free email service users: To prevent outages and disruption to services, your email account will be suspended and may be permanently deleted off the server if unsolicited emails (SPAM) are found to be sent from your mailbox. SPAM is illegal and constitutes abuse of free services.
We have noticed that after an update on iOS, previous config settings may not work on your device. We recommend users of our free service to only use the webmail portal on your browser
We have rolled out standard encyption for all emails for your protection.
Please watch this space for updates
Due to the constant threats posed by SPAMMERS and HACKERS from well known IP addresses associated with criminal behaviour, we have barred IP ranges from known threat sources. Customers may experience dropped emails if the sender or recipient uses servers based in the Russian Federation, Bulgaria or Holland
PHISING SCAM ALERT
If you have received messages from someone purporting to be a "directsave.net postmaster" or any other online provider asking you to confirm your identity to continue using your services, they should be deleted. This is a typical "phising scam"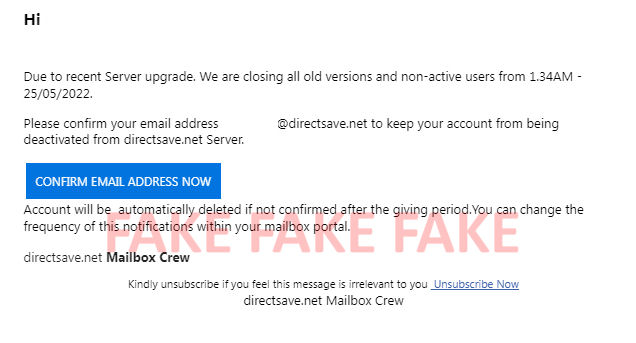 .

We would never ask for your login details by email.

If you have ever clicked on a link and entered your email login and password, please change your password now or contact our tech support immediately so we can secure your mailbox.
Customers using email clients (eM Client, Outlook, Thunderbird, etc) may need to change their port settings
Outgoing server requires authentication.
server: smtp.directsave.org SMTP-Port 25 Security type: TLS (Accept all certificates or Auto)
server: directsave.org POP3: Port 110 Security type: TLS (Accept all certificates or Auto)
server: directsave.org IMAP: Port 143 Security type: TLS (Accept all certificates or Auto)
iphones/ipads/SSL settings
server: directsave.org POP3s: Port 995 Security type: SSL (Accept all certificates or Auto)
server: directsave.org IMAPs: Port 993 Security type: SSL (Accept all certificates or Auto)
server: directsave.org SMTP: Port 587 or 465 Security type: SSL (Accept all certificates or Auto)
TROUBLESHOOT
Delete account, power cycle (Turn off and on again), input server settings, user login (full email) and password
Webmail: If your folders are missing, click on the INBOX to expand
Webmail: To change your password, click on Preferences (Cog Icon) -> General -> Password
Current Service Status : OK